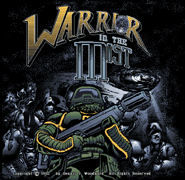 Warrior in the Mist - A History - Page 2
The Warrior in the Mist video would show that the old "Marvel" format could be updated by using desktop computer video technology, for a reasonably low production cost. This would allow the work of more comic creators , and publishers, exposure in the growing video market. (Sound like the Flash dot.com boom doesn't it. But, remember this was ten years ago.)
So,what happened? Well, I actually produced several short Comic Book /Video Adaptations. The first was a based on a Paul Chadwick's "Concrete". It was an adaptation of a five page story "Waiting for the Sunset". It was not completed, the first half was in color and the remainder in black and white. I sent Mr. Chadwick and Dark Horse, his publisher a copy of the video. Months later I introduced myself to Paul Chadwick at an comic convention in New York City. He said you liked the tape but Dark Horse owned the media rights. I later had contact with Dark Horse. They ask for a budget, which I presented to them. But that was far as it went with Concrete and Dark Horse. After the disappointment wore off. I decided using my own creations would be less of a hassle. With that in mind I forged ahead on Warrior in the Mist.
Dragonfly Presents - Warrior in the Mist - the Comic Book
In the summer of 1992, I finished the comic art for Warrior in the Mist (it's original name was The Eternal Warrior, but somehow Valiant Comic came out with a character by the same name. But that a story for another day). I package the story, some frame shots of the video and original illustrations as a 24 page black and white comic book, which I intended to self publish. The book was solicited to comic distributors and set for a April 1993 shipping date. Orders were coming in, not big orders, but orders never the less. Diamond Comic Distributors "Previews" give Warrior in the Mist a "Spotlight on " de notion.
Again, so what happened.